Custom Installed Fencing
Elite Landscaping installs fences for privacy, security, and safety applications. Let us build you a fence which complements a your property's landscaping. A stylish fence can define space and provide an attractive backdrop for flowerbeds.
Aluminum Fencing
Elite Landscaping can craft maintenance free fences from aluminum. This is a heavy-duty aluminum with a powder-coated finish applied at the factory. Commonly seen around swimming pools, it can be accented with decorative elements such as scrolls and finials. Aluminum fencing comes in a wide range of colors, even gold accented, and is comparably priced with vinyl.
Wood Fencing
Wood fences are the most popular type of fencing and are Elite Landscaping's specialty. Elite Landscaping installs all it wooden fences with wood coated with high quality preservatives to protect the lumber from rot, decay, and termite attack.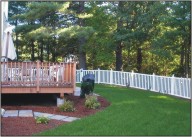 Vinyl Fencing
Vinyl fencing, never needs painting and requires no regular maintenance. Made of state-of-the-art material, high quality vinyl fencing offers the elegance of traditional fencing in a variety of colors, heights, and classic styles. Vinyl fencing is, however, a more expensive product than wood fencing. Elite Landscaping can install a custom vinyl fence to fit any situation
Chain-Link Fencing
One mainstay of fencing materials is chain-link fence. Even still, this fencing has changed its look from the familiar battleship gray and is now available in other colors to suit your needs. Chain-link is a utilitarian choice for fencing that is least expensive and used most often in commercial situations